Not only does granite provide a unique and upper scale look to your space, but it is one of the most durable and heat resistant stones used for countertops. On the Mohs hardness scale, it is rated a 7, meaning it's a very hard material.   By a way of comparison, the knife in your kitchen has a Mohs hardness of 4-5.
Granite is an Igneous rock. It begins as molten magma under the earth's surface that flows into other rock structures and cools slowly. It is made up of many different minerals such as Feldspar, Mica, and natural Quartz. The different combinations of minerals are what give each slab it's one of a kind color and appearance. Granite is quarried from all around the world with the largest suppliers come out of Brazil, India, Norway, Italy, and China. Most granite used for countertops for sale is imported.  This is mainly due to the colors and designs.  Most of the granite in the United States is pink and gray.
What are the pros of our granite countertops for sale?
Aside from granite being naturally beautiful and one of the hardest countertop materials out there, it also comes in a vast variety of shades and colors. Our granite countertops for sale in Colorado come in a variety of finishes such as leathered, polished, and honed.
Treating and maintaining your granite countertops is a very important component to maximizing the longevity of your counters A properly sealed granite is almost unmatched in its stain resistance, heat threshold, and durability. In fact, this stone is so hard we advise not to use knives directly on it when cutting as it can damage or dull your knife while leaving your countertop undisturbed. Granite can also withstand approximately 2500 degrees of heat. Using hot pads is still recommended because high temperatures can potentially discolor the sealant, especially with a lighter-colored stone.
Are there any cons?
There are very few cons to having a granite countertop. The biggest one being the fact that it needs to be sealed. An unsealed or improperly sealed granite can stain because it is a naturally porous stone.
The good news, however, is that our granite countertops for sale are sealed by our company upon installation. A good sealant will protect your countertop for a minimum of 5 years, with some lasting as long as 15 years if cleaned, treated, and maintained properly.
How do I know when it's time to reseal?
To check if your stone needs to be sealed again, just leave a few drops of water on the surface. If it beads up, your sealant is still good. If the water has soaked into the granite after a few minutes then it is time to reseal your stone. Resealing granite is quite easy and the sealer is generally pretty inexpensive.
What about cleaning my granite?
The key to treating and maintaining your granite countertops is to use water and gentle or mild dish soap, and a microfiber or terry cloth for daily wipe downs.
Avoid harsh cleaners because these can strip the sealant off and cause your granite to appear dingy and be more susceptible to staining. Do not use things like Windex, Ammonia, and bleach, and avoid acidic cleaners like vinegar, lemon, and lime.
Though a well-sealed granite is pretty impenetrable to bacteria; in fact, granite is silica-based which is naturally anti-bacterial. Browse our selection of elegant granite countertops for sale in-store at our Centennial or Colorado Springs showroom today!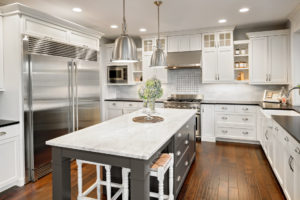 If you have any questions for our granite fabricators in Colorado Springs and Denver, or want to upgrade to granite kitchen or bathroom countertops, fill out the form below or give us a call at:
Colorado Springs:
719-266-0408
Denver:
720-405-1100