GRANITE COUNTERTOP EDGES AND FINISHES
With granite being the most popular countertop material among contemporary homeowners, choosing the best granite countertop edge and finish for your slabs is one of the biggest and most important decisions you'll face when planning your kitchen design and installation. Are you aiming for a modern look or do you prefer a classic feel to match your current home design? Expect the shape and detail of your granite countertop edges to affect the cost, function, look, and maintenance of your kitchen. Know your options, as well as the advantages that each type of edge and finish offers, so you can complement your dream design.
Countertop refinishing is another option to consider when undergoing a kitchen redesign. Refinishing your granite countertops is an eco-friendly method of sprucing up your solid kitchen surfaces at a significantly lower cost than paying for replacements. Preserve your current countertop and improve your home with excellent cost savings. Check out our edge and finish options below and contact us with your questions today.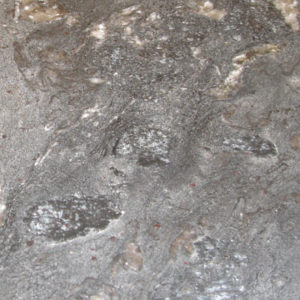 Leathered
"Leathering" is the process of texturing granite or marble to appear less glossy. This process amplifies the natural characteristics of granite or marble, resulting in an exquisite surface. It is easy to clean and maintain, as well as, pleasing to the touch – a perfect balance between style and practicality. A leathered granite countertop finish is a fresh and innovative way of adding a subtle elegance to your decor.
---
Sandblasted
In sandblasting, a high-pressure jet of siliceous sand or steel shots is applied to the area to be treated. This treatment produces a smooth abrasion, leaving the material with a slightly scratched (but not rugged) surface. The color tones and the veins are slightly dulled.
---
Rigato
Rigato is a machine finish that gives a linear pattern cut to the stone. This finish gives an added design factor when applied to a wall. All stones can have this finish applied to them.
---
Polished
A polished granite countertop finish is created when a stone surface reaches it's most refined stage. It is buffed to the highest level possible, and the results are either a high shine or the actual highest level of shine that can be achieved naturally. This finish gives the stone a very elegant and rich look, providing it with a pinnacle depth of color.
---
Split Face
The split face finish is a result of the stone being cut by a guillotine that fractures the face and turns it to a rocky finish.
---
Natural Cleft
This finish is associated with materials that are layered and thus, when split, do so on a natural fault creating what is known as a natural cleft finish. Slates are the most common types of stone that can split naturally.
---
Honed
This finish is created by buffing the stone to slightly less than the highest level. The result is a smooth but dull appearance. A honed finish refers to any level that is less than polished and therefore encompasses many levels of dullness.
---
Flamed
A Flamed finish is produced when an intense flame is fired at the stone, causing the surface to burst and become rough. This finish is used primarily for exteriors applications where slip-resistance is extremely important. A flamed finish cannot be applied to all stones; however, most granite and certain hard limestone are preferred.
---
Flamed & Brushed
This process entails passing a blowpipe that emits a high-temperature flame over the surface to be treated. The heat acts by blowing the crystals out as they suffer thermal shock, with an effect that is particularly evident in materials composed of minerals with various degrees of expansion, (such as the vast majority of granites). The resulting surface is rough, non-slip and generally faded in color, thereby hiding defects and tone variations. Because of oxidation, yellow materials become orange or red.
---
Bush-Hammered
A bush hammer is a specialized stone-working hammer with a head that resembles a meat tenderizing hammer. Because the head of the hammer is usually small (about 1-2 inches square) it takes a long time to apply this finish to a large surface area. The result leaves the surface of the stone fairly smooth with small indentations. A bush-hammered finish can be applied to nearly all stones.
---
Bush-Hammered & Brushed
A bush-hammered and brushed effect is obtained by pounding the material surface mechanically or by hand with a specific multi-pointed tool. This method creates a rugged surface full of little grazes at the impact points, giving the surface a lighter color. The surface becomes non-slip. This technique has been replaced by flaming and pressure water finishing which is a quicker and less expensive process.
Granite Countertop Edges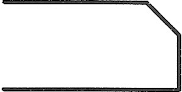 Chamfers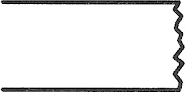 Chiseled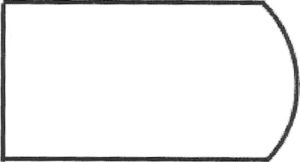 Crescent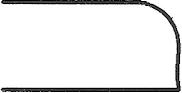 Demi Bullnose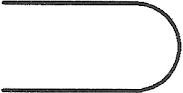 Full Bullnose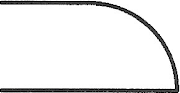 Large Demi Bullnose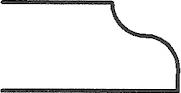 Ogee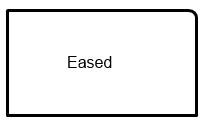 Eased and Polished